I recently had the chance to stop by the newly opened Angel City taproom and was lucky enough to get to sample a few of their beers. They had their two flagship beers, Angelono IPA and Eureka! Wit, as well as less interestingly named Pilsner and Vanilla Porter. The last beer on the list is the one that really caught my eye. The French Sip is an au jus inspired beer and is something I personally see as an iconic symbol of downtown LA.
From 2005 to 2007, I lived in a 12,000 square foot warehouse (imagine living in a small supermarket) above skid row and the only establishment that had reasonable food and decent beer was Cole's Pacific Electric Buffet, where you could get a french dip and a Chimay for about $10 (this is of course before it was turned into a hipster bar). For those not in the know, LA is actually the birth place of the French dip, with two places claiming to be the inventors, Cole's and Philippe's (who actually added The Original to their name to help solidify their claim). I can not even begin to count how many French dips I have had in the last 7 years, but it is definitely an LA staple in my mind.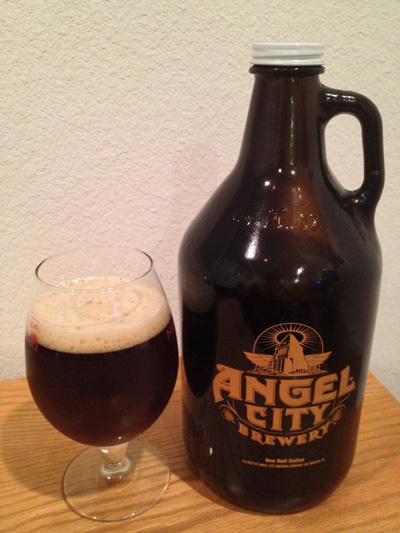 So when Angel City decided to make an ode to Los Angeles in beer form, the consensus was that it should be inspired by the French dip. They used rosemary, peppercorns, pink salt, and Kombu seaweed (known for its umami flavor) to craft a beer that harkens back to the savory au jus that makes a French dip more than just a soggy sandwich.
The pour is a very dark brown with a good amount of slightly off white head that lasts for almost the entire glass. The aroma has a mix of rosemary and peppercorn with a bit of smokey malt. It has a very light body with a good amount of carbonation. The flavor is definitely going to be a love it or hate it type affair, as with a number of spice beers. It starts with a bit of almost bittersweet chocolate malt that quickly moves to a defining rosemary flavor and finishes on a spicy peppercorn note. The aftertaste has a lingering kick from the pepper with a savory maltiness.
The French Sip has to be one of the most interesting beers I have had this year. If you are a fan of the French dip, or just a good spice beer, it really does encapsulate the savory essence of the au jus without over doing it. I'd recommend giving it a try, just for the experience if nothing else. This beer is currently on tap at the Angel City taproom located in Downtown LA.
| | |
| --- | --- |
| Name | The French Sip |
| Brewery | Angel City Brewing |
| Style | Spice Beer |
| ABV | 5.2% |
| Availability | Taproom Only |
| Rating | 4 out of 5 |
Cheers
Beer Guy LA