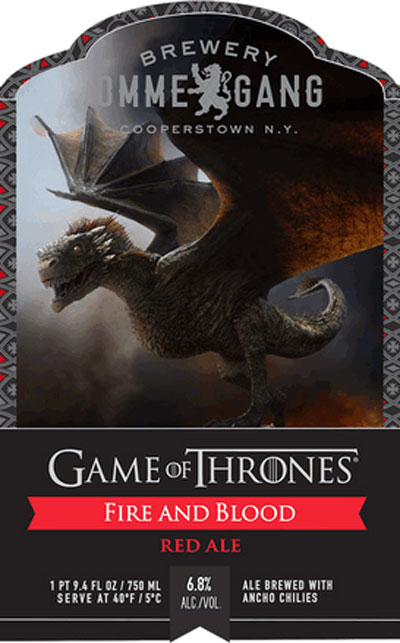 If you haven't noticed yet, Game of Thrones is about to start-up again (as evident by the billboards all over town). To coincide with this, the next beer in Ommegang's Game of Thrones series has been introduced. This time around the beer is the Fire and Blood Red Ale, an homage to the motto of House Targaryen and taking inspiration from the rebirth of Daenerys Targaryen's three dragons, Drogon, Rhaegal and Viserion.
The brewers at Ommegang took inspiration for this brew from the nomadic nature of the House Targaryen, choosing to include rye and spelt as they are both fermentable grains that can be found in desert like climates. To represent the dragons of House Targaryen, they added de-seeded ancho chiles to the brew to give it an ever so slight kick. For the bottle release they created three different labels for the beer, one for each of Daenerys' dragons, that will be randomly mixed in each case.
The beer pours a cloudy red amber with a good amount of bubbly head that laces the entire glass. The aroma has a mild grassy hop with some spice notes, distinctive fruity Belgian esters, and the slightest hint of chile pepper heat. The mouthfeel is on the lighter side of medium with a very light carbonation. The flavor starts with unique grain flavor that moves to brief interlude of apple and nectarine before wrapping up on a grassy hop with a hint of green pepper. The finish is pretty dry with lingering notes of rye, mildly bitter grassy hops, and the slightest note of green chile spice.
Name
Game of Thrones –
Fire and Blood Red Ale
Brewery
Ommegang
Style
Belgian Red Ale
ABV
6.8%
Availability
One time draft and bottle release
Rating
4 out of 5
For being a dragon themed beer, I was hoping for a bit more spiciness. The beer does have some, but it comes off as more the illusion of heat than true spiciness. Overall though, it is a good Belgian style red with an interesting balance between malt, hop, and fruity esters. If you're interested in finding this beer you probably won't need to ask "where are my dragons?" as Ommegang has doubled the production amount compared to the last release, Take The Black Stout (which was double the first release). If you're a fan of Ommegang or Belgian style beers I'd definitely recommend checking this one out, for everyone else I'd say give it a shot if you happen upon this brew as you may end up enjoying it, but it's probably not worth fighting off the fans of the show to hunt it down. Like the last two releases this is a one-off brew, so if you really want to try it be sure to start looking now. Ommegang will be hosting a number of events featuring this beer over the next few weeks and bottles have already started hitting stores, so check with your local watering hole or bottle shop as to when you might be able to get some of this brew.
Cheers!
Jeff Prosser