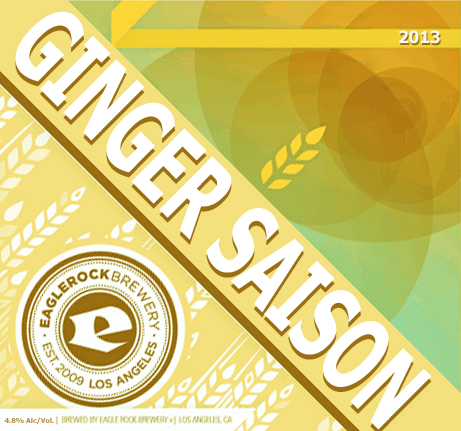 Arriving a tad early for lunch in the newly renovated section of Far Bar in Little Tokyo, I was pleasantly surprised to see a list of beers from Eagle Rock Brewery being offered for just $4.00 a serving, which was in preparation for the next day's Eagle Rock Brunch and Sushi Pairing. A fan of Manifesto, their witbier, I had a feeling that the Ginger Saison would be right up my alley. It ended up being a dangerously drinkable brew that I ordered several times over, despite a massive list of alternatives. Available for a limited time, I suggest lovers of the style get it while the getting is good.
Ginger Saison began as a small batch in the garage of brothers' Andrew and Lee Bakofsky, before moving to a few larger batches at the brewery. Served on tap into a tulip glass, the pour is a hazy golden color with only the thinnest wisp of bright white head that quickly recedes into a thin ring leaving subtle lace. Like Manifesto, Ginger Saison looks great in a glass and on this day, which was already threatening 85 degrees just prior to noon, it was the perfect choice.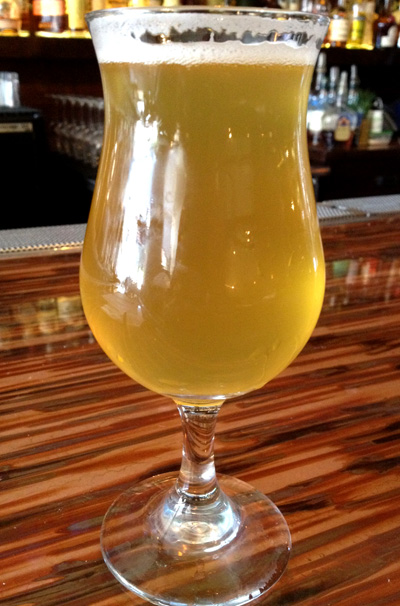 The nose was light and grassy, composed mainly of ginger and lemon tones with subtle malt. Well carbonated, the mouthfeel is lean and crisp. The taste is simultaneously smooth and tart. Light malt shrouded in potent ginger that finishes on lemon zest with a touch of peppery spice. Über drinkable, the brew is well balanced with a faint spicy burn in the back of the throat.
Overall I was pleasantly surprised by this beer. My only reservation was how the ginger would be handled and in this, the brew's third large-batch incarnation, the recipe has really come into its own. It contributes to a growing amount of wild and farmhouse ales that have been popping up all over town; a trend I embrace whole heartedly. I think Ginger Saison is among Eagle Rock Brewery's best to date and hope to get my hands on some again, before this limited brew disappears.
| | |
| --- | --- |
| Name | Ginger Saison |
| Brewery | Eagle Rock Brewery |
| Style | Saison / Farmhouse Ale |
| ABV | 4.8% |
| Availability | Limited Tap |
| Rating | 4 out of 5 |
Cheers
Dave