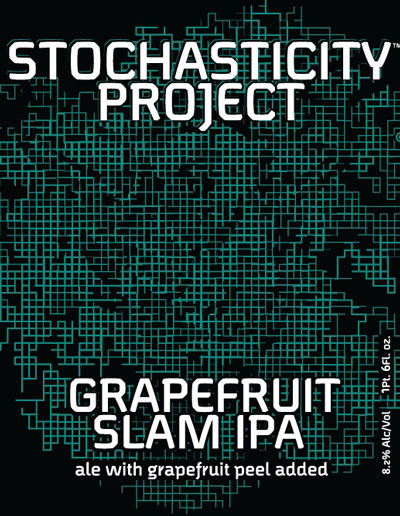 Normally my reviews are pretty straight forward, a brewery makes a beer and I review it, but today we've got a strange one for sure. Stochasticity Project Grapefruit Slam IPA is the kind of thing I thought would never happen in the "real" craft beer community, but here it is. So I did some digging to see if I could crack this puzzle.
On the surface, this is a double IPA made with grapefruit peel that promises to "usher in what, according to years of studies and supporting data, will be the next enthralling chapter in the history of American craft brewing." There isn't a whole lot of other information on the bottle besides the notes on some of the ingredients and some jibber jabber about unpredictability and randomness. So let's start with what Stochasticity Project is. Stochasticity refers to randomness, specifically in probability and science. In this line of thinking Stochasticity Project is looking to embrace the randomness of what seemingly falls into place where "exotic notions, ingredients and ideas coalesce at an interesting and often unexpected endpoint." The full PR copy on their website adds some general points about science and advancing craft beer to the next level. At this junction, I'm not sure if I'm looking into a craft brewery, Trent Reznor's latest ARG, or some sort of brewers fight club-esque mad experiment (The first rule of Stochasticity Project is do not talk bout Stochasticity Project). There are a few clues to this mystery beer, namely the blurred gargoyle in the center of the label and that the brewery is named Koochenvagners Brewing Company.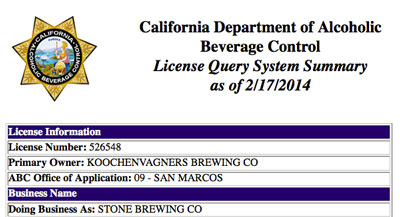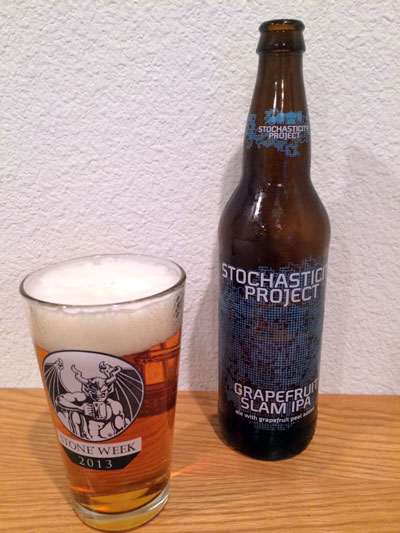 If Koochenvagners sounds like something you might have heard before, it's because Greg Koch and Steve Wagner are the founders of Stone and use the name Koochenvagners Brewing Company in official business filings, like ABC licenses. This answers the all important who, but leaves a much more interesting why?
I can understand feeling trapped by the preconceived notions of a brand identity and wanting to go in a new direction that doesn't alienate your core customer base, but this is so close to what Stone normally does that I can't think of a good reason for this ruse? This isn't even a new beer for Stone. It actually came out last year as a Ruination one-off cask, unsurprisingly called Ruination Grapefruit Slam. If you do a bit of digging, the hop and grain bills for these two beers are almost identical. My best guess is that they wanted to start with something familiar to launch the line, but since everyone is being very hush hush about it all, we may never get a real answer. The other big question is, why not use the stone branding? Stone has a reputation for great craft beers and this brand identity helps consumers. So why ditch almost all of that branding identity with this new project? I know I'm splitting hairs, but there will be people who pass up this beer that would have purchased it had it said Stone. My best guess is that it's all a big joke, for those who already know the punchline or are adventurous enough to grab something that they've never heard of. But enough of my soapboxing, let's get to the beer.
| | |
| --- | --- |
| Name | Grapefruit Slam IPA |
| Brewery | Stochasticity Project (Stone Brewing) |
| Style | Double IPA |
| ABV | 8.2% |
| Availability | One time draft and bottle |
| Rating | 4.5 out of 5 |
The beer pours a clear straw color with a good amount of frothy head. There's quite a bit of sweetness to the aroma, offering up a mix sweet citrus and some bready malts. It has a medium body and slightly below average amount of carbonation. The flavor is very bitter, with grapefruit rind bitterness taking center stage followed up by hints of lemon and orange, and a subtle bready malt in the mix. The aftertaste is pretty dry and sticky with a lingering bitter grapefruit rind and the faintest hint of sweet citrus flesh.
The best way to sum up this beer is GRAPEFRUIT (yes in all caps). It takes the idea of a one note beer and runs with it, to the point of winning the race. As I stated before this beer owes it lineage to Ruination, which already has a certain amount of citrus bitterness, but the added grapefruit peel gives it an extra punch that I really enjoyed. Imagine the beer equivalent of eating a grapefruit like an apple and you'll have an idea of what this beer is like. All the tomfoolery aside, this is a solid IPA and I'd highly recommend trying it. So if an intensely bitter grapefruit IPA sounds like your kind of beer, start looking for this one because once the word gets out they may go quick and Stone, or Stochasticity Project or Koochenvagners, have said that they are only brewing this once.
Cheers!
Beer Guy LA