I was lucky enough to go Little Bear in the Arts District for their Bruery tasting dinner and the LA release of Mrs. Stoutfire, a collaboration between The Bruery and Beachwood Brewing. Unlike the similarly named 1993 film, this one does not require cross dressing nannies or Robin Williams.
This collaboration got its start from the great barbecue at Beachwood's restaurants, where they use a mix of apple, white oak, and pecan wood to smoke their meats. So when they decided to make a stout for their collaboration, it was a natural extension to smoke the malt in the same smoker that they use for their barbecue. To top it off they also aged the beer with the same mix of woods, creating an interesting imperial stout.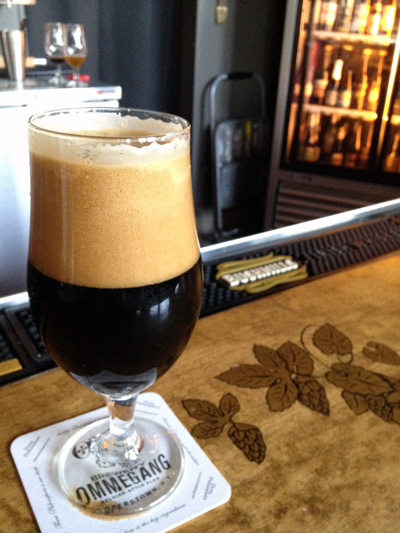 The pour is black with a huge amount of thick creamy tan head (though it might just have been a heady pour). The aroma has a distinctive barbecue smokiness that blends with the earthy malts and just a hint of sweet cocoa. It's got a big mouthfeel with a good amount of carbonation giving it a creamy sensation. The flavor starts with a creamy chocolate that moves to an earthy bitterness and finishes on a smokey cocoa. There's a subtle smokiness that creeps up on your palate as you drink the beer. The aftertaste has a smoky malt quality with a bit of chocolate sweetness and a slight burn at the back of the palate.
At the event, I was able to have this beer with a mini pastrami sandwich that really accentuated the smokiness of the beer and the savory flavors in the meat. I very much enjoyed the barbecue smokiness in this beer and its play with the roasted malts. Though similar in some aspects to The Bruery's Smoking Wood, It does have a distinctive complexity to the smokiness that Smoking Wood does not have. I'd definitely recommend this one to anyone who is a fan of smokey, malty beer or are fans of The Bruery's maltier offerings. Like the other Bruery collaborations, this is a one-off brew and will only be available for a very limited time. Bottles should see a limited distribution to the nicer bottle shops around town and it will be on draft at Beachwood BBQ in Seal Beach on Friday March 15 2013 (and most likely Beachwood Brewing and BBQ in Long Beach sometime in the near future) and possibly a few other locations around town in the next few weeks.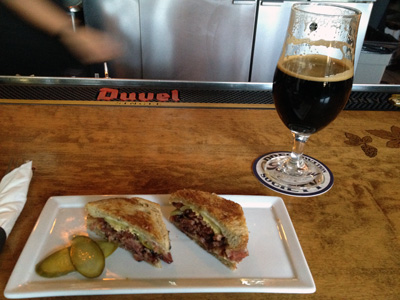 Name
Mrs. Stoutfire
Brewery
The Bruery &
Beachwood brewing
Style
Imperial Stout
ABV
9.5%
Availability
One Time Limited Draft
and Bottle Release
Rating
4 out of 5
Cheers,
Beer Guy LA