I'm no stranger to Mohawk Bend. I was a bit scared when I came out for its opening, but, after the usual LA restaurant launch madness settled, it has become one of my goto gastropubs. Though I'm not afraid to eat some animals, Mohawk Bend has shown me that not all vegan food is as bad as I thought. So today we celebrate their second anniversary with the release of One Hundred & Two, a collaboration between Golden Road Brewing and the staff of Mohawk Bend.
Unlike the Tonys Darts Away Anniversary beer, the staff of Mohawk Bend wanted to craft a beer that would both compliment the vegetable and vegan centric menu as well as the palates of their usual customers. What they came up with was a big Belgian style blonde with a very simplistic recipe of centennial hops and American two-row malted barley (which is also where the name comes from).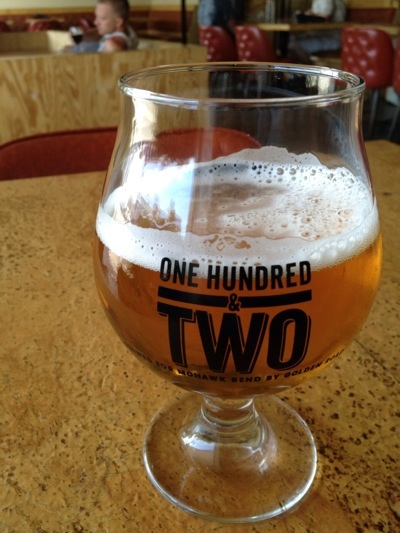 Pour is clear golden color with a sparse amount of bubbly whit head. The aroma has a cereal malt with a bit of earthiness and a distinctive citrus zest. It's got a pretty substantial mouthfeel with a good amount of carbonation. The flavor starts with some earthy belgian yeast notes that quickly move to a sweet citrus hop that slowly progresses to a cereal malt. The aftertaste has some lingering citrus hop that fades to leave an earthy yeastiness with just a bit of spice and a slight burn on the back of the throat.
This brew was a very enjoyable one and perfectly complimented this warm August day. It comes off pretty refreshing for 8.8% and could compliment pretty much any of Mohawk's menu items. You'll also be able to find this beer a The Pub at Golden Road, but only for a short time.
Here's to two years of great beer and food!
| | |
| --- | --- |
| Name | One Hundred and Two |
| Brewery | Golden Road Brewing |
| Style | Belgian Style Blonde |
| ABV | 8.8% |
| Availability | One time limited release |
| Rating | 4 out of 5 |
Cheers!
Beer Guy LA