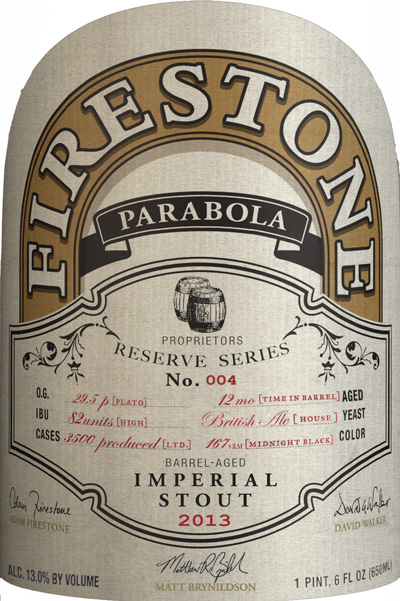 Some of you might have seen that I was out for a few days due to some foot surgery, which meant no beer. But everything went well and I was cleared to resume moderate activity, which includes drinking. What better way to celebrate than with a world-class imperial stout like Firestone Walker Parabola. This annually released beer is part of Firestone Walker's Proprietors Reserve Series and is one of their most sought after releases. For those who've followed Beer Guy LA for a while, you'll remember that I did a review of the 2012 release of Parabola, which if you were fortunate enough to stash some away (or happen to be in a position to drive up to Buellton or Paso Robles to buy a vintage bottle) you will not be disappointed with at this point.
Though the recipe has not changed, one aspect of this brew is new for this year's release. The usual Elijah Craig and Van Winkle barrels, Firestone Walker was able to secure barrels from Four Roses Distillery. Brewmaster Matt Brynildson says that the addition of these barrels to the blend "layer in this well refined, rich and pure oak aspect" that compliments the "deep boozy bourbon quality along with that dank, deep Kentucky cellar component" from the other distilleries barrels.
Pour is black with a quickly diminishing tan head. The aroma has a rich malty chocolate with a bit of vanilla, bourbon, and oak and a subtle oat note. As it warms, the bourbon becomes dominant in the aroma. It's got a big, creamy mouthfeel with a lively amount of carbonation. The flavor starts with a rich bittersweet chocolate that moves to an espresso bite and finishes on a spicy tobacco with a slightly savory note. The flavor has a rich bourbon quality that presents itself throughout. The aftertaste is very dry, opening with grassy hops and some intense espresso and oak that open up to subtle vanilla and toasted oak with a pleasant burn at the back of the palate. At 13% ABV, it's definitely a slow sipper that comes off almost like drinking a port with a complex array of flavors that develop over time.
Going back, I see quite a few similarities between my tasting of the 2013 release and my notes on the 2012 release. The rich malts, boozy warmth, and distinctive oak character are like a good friend you haven't seem in a long time, but there is a more distinct oat presence that I don't recall in the previous year's release. There is a bit of spice heat to it that will mellow out over time, as the 2012 release has shown. This brew was officially released on April 13 and should be making its way South in the next few weeks to the better bottle shops and beer retailers. I highly recommend this beer to anyone who enjoys a good stout and I'd also recommend buying a second to set aside so as to fully appreciate how this brew matures over time.
Name
Parabola (2013 Release)
Brewery
Firestone Walker
Style
Barrel Aged Imperial Stout
ABV
13.0%
Availability
Seasonal Release
Limited Bottle and Draft
Rating
5 out of 5
Cheers
Beer Guy LA