Popping the cap on a 22oz. bottle of Pure Hoppiness, there is an immediate whiff of fresh, potent hops. There is no skunk quality to the aroma whatsoever. I know at once that this is going to be a great beer. I have been to Alpine Brewing Company and highly recommend a stop by for anyone venturing that direction in search of great brews. Pure Hoppiness is pretty hard to come by in LA County, but if you're willing to make the trip to Alpine Beer Company you will find this brew in a lineup of well crafted beers in their taproom.

The brew is a slightly hazy honey amber that leaves a thin rocky white head after a rough pour. This dissipates quickly, leaving sublte lace most of the way down the glass. The nose is bright, composed of pine that is backed up by sweet citrus and pineapple on top of a base of caramel malt and a plentiful dose of fresh hops. It is inviting to say the least.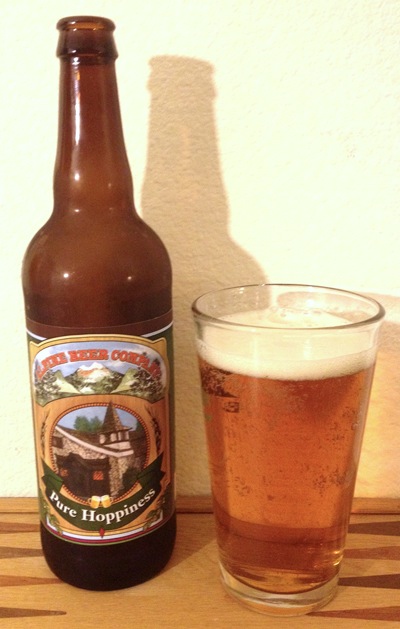 The initial taste opens with a smooth caramel malt that descends into a strong hop finish that is bold and crisp. Carbonation is light and the body is medium. The finish is dry, with slight piney bitterness. The taste lingers but doesn't turn and become offensive as in lesser IPA's. Hints of pineapple and caramel malt are flanked by powerful hops in every direction on this one. As the beer warms these sweet tones get to play a larger role as you adjust to the initial blast of hops. Drinkability is extremely high.
This is a great IPA and comes in at a respectable 8% ABV. Analysis of its profile is an ongoing experience, as between the dry finish and the heavy dose of hops your taste buds are initially bombarded, but the brew offers momentary glimpses of unexpected sweetness. This beer is every bit as exceptional as its 97% rating on Beer Advocate would have you believe. Unlike so many IPA's on the market it delivers without overdoing it. The hop-centric brew is more potent than most, yet never strays into the unpleasant funk I have come to expect from other brews hiding behind an overindulgence of hops. Most impressive is the fact that such a skilled brew comes from such a tiny brewery. A brewery tour literally consists of standing in one corner of the room and beholding a small but efficient system. Fortunately they offer exceptional food to pair with flights of exceptional beer, making it worth the trip.
| | |
| --- | --- |
| Name | Pure Hoppiness |
| Brewery | Alpine Beer Company |
| Style | IPA |
| ABV | 8.0% |
| Availability | Limited 22 oz. Bottle/ Tap |
| Rating | 5 out of 5 |
Cheers
Dave