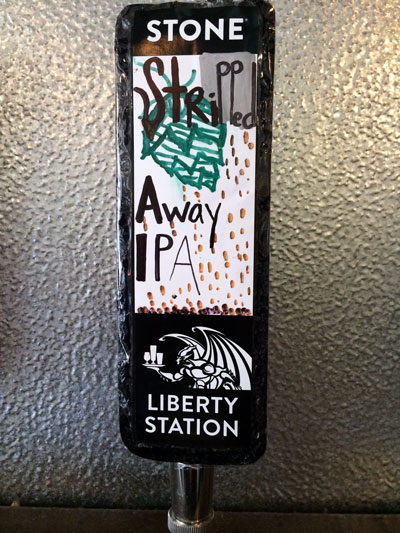 I can't say I'm a connoisseur of gluten free beers, but I have tried a few. Sadly, they are for the most part short of what you would like in a beer. So when I heard that Stone Brewing had made a gluten "reduced" beer I had to go check it out.
Stripped Away IPA is the product of Stone Brewing's Liberty Station, which since it's opening in May of 2013 has acted as Stone's experimental small batch brewery. This brew is NOT gluten free, but gluten reduced. It gains this classification from the use of White Labs Clarity Ferm, an enzyme that helps prevent chill haze as well as significantly reduces the gluten content in beers made with barley and wheat. Due to some red tape, they aren't allowed to use the term gluten free (which the FDA defines as containing 20 parts per million or less of gluten), but according to Stone it contains 5 parts per million of gluten. As for the recipe, it pays homage to Sublimely Self-Righteous, but without the dark malts.
The pour is a slightly hazy golden amber with an average amount of off white head that seems to dissipate a bit quicker than normal. The aroma has a very floral and citrus hop presence. The body is on the lighter side with a good amount of carbonation. The flavor is big on the hops with a good mix of citrus, pine, and tropical fruit with a nice bite but no real maltiness (as it is reduced gluten). The aftertaste has a lingering citrus flavor with a mild hop bitterness.
| | |
| --- | --- |
| Name | Stripped Away IPA |
| Brewery | Stone Brewing (Liberty Station) |
| Style | Reduced Gluten IPA |
| ABV | 8.06% |
| Availability | Limited One Time Draft Release |
| Rating | 4 out of 5 |
Though this beer is less gluteny than I usually prefer, I did rather enjoy it. I'm not going to try to say it surpasses any traditionally made IPA's, but if you happen to be in the market for a reduced gluten beer, I'd highly recommend heading out to Stone's Company Store in Pasadena in the next few days before this one disappears. At this point it is a one off, but never say never.
Cheers!
Beer Guy LA