I'm a big fan of imperial Russian stouts and have been patiently waiting for Taps to send some Remy in my general direction. My waiting has finally paid off, with Sunset Beer Co getting both a keg and bottles and Far Bar getting a Balinese coffee variant. And because knowing is half the battle, here's some info on this killer stout.

Remy is Taps award winning Imperial Russian Stout that has been aged in a Heaven Hill Bourbon barrel for over 8 months and is their first barrel aged beer that has been bottled for sale. The bottles were initially sold at the brewery on June 2 2012. A couple of variants exist as well including several coffee versions and one made with blackberries.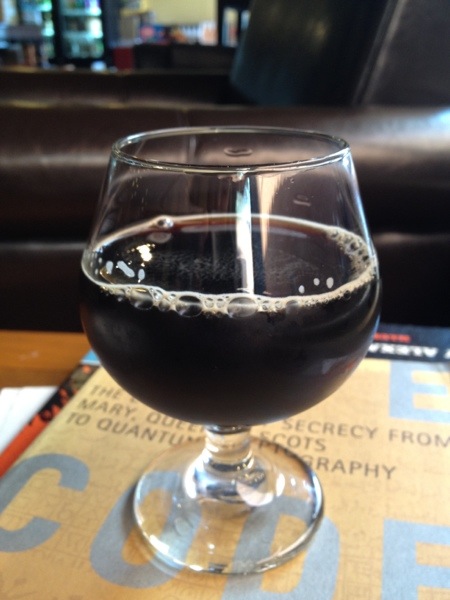 The pour is pitch black with a very slight ring of head and no lace. there is a strong bourbon aroma with hints of chocolate and caramel malt and a bit of breadiness. The mouthful is not as thick as I was expecting, bordering on the heavier side of medium bodied with just a little bit of carbonation. The bourbon definitely takes center stage on the flavor, bookended by vanilla and coffee notes on the front and a bitter chocolate malt on the finish with just a hint of spice. The aftertaste has a strong, dry bourbon burn with a lingering roasted malt.
I'm glad I got to try this one on tap, because I am very interested to see how the bottled version will change with a bit of time in the cellar. It is a bit more bourbony than I prefer, but still a very good stout, and at 12.3% all you'll need is one. If you would like to try this beer, head on over to Sunset Beer Co, where it is currently on tap, or Far Bar on 6/18/12 (but they are going to have the Balinese coffee version so your mileage may vary).
Name
Remy
Brewery
Taps Brewery
Style
Imperial Russian Stout
ABV
12.3%
Availability
Rare Draft Release
Extremely Limited Bottle Release
Rating
3 out of 5
Cheers!
Beer Guy LA