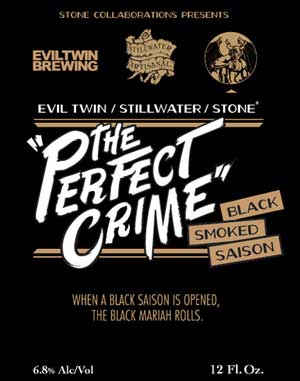 There is a special place in my heart for a good black beer. I love a schwarzbier or black lager any time any place. and The Perfect Crime, a collaboration between Evil Twin, Stillwater, and Stone, has definitely found a spot.
This collaboration is the third black style beer that Stone has featured in its collaborations series (The other two being Juxtaposition Black Pilsner and El Camino (Un)Real Black Ale). The black saison was rather uncommon style up until recently, but much like the black IPA, they have been appearing from a number of craft breweries. The Perfect Crime, a reference to altering the recipe of a saison so much that it would be criminal, came from the minds of Jeppe Jarnit-Bjergsø of Denmark's Evil Twin Brewing (also brother of Mikkel Borg Bergsø of Mikkeller fame), Brian Strumke from Baltimore's Stillwater Artisanal Ales, and Stone brewmaster Mitch Steele. This beer incorporates a Belgian saison yeast for a rich fruit and spice character but deviates from the norm in its use of oak smoked wheat malt, which gives this brew its dark color and adds a smokey character. Oak smoked wheat malt is actually a new comer to the brewing world and can provide a flavor that is rather close to fresh oak barrels.
The pour is an extremely dark reddish brown, that could easily be mistaken for black in poor lighting, with a small amount of bubbly off white head. The aroma has a very distinctive fruitiness with notes of cherries and peach with a subtle chocolate malt backing. For being so dark, it has a pretty light body and a lively amount of carbonation. The flavor starts with a strong grassy note that moves to a roasted malt with a hint of oak and finishes on a slightly peachy flavor. The aftertaste is very dry with a strong grassy flavor that moves to an oaky roasted malt.
Overall, I would highly recommend this beer to all saison and Belgian fans. It has a great play between the fruity flavors from the Belgian yeast and the smokey malt with a very light refreshing drinking experience. Unlike most Stone beers, this one is not a total hop bomb and will appeal those who are less inclined to the bitter craziness of the hop side. Either way, if you want to try this one make your way to the Stone Store in Pasadena or your local craft beer retailer within the next week or two because this is a one time brew and will not last long.
Name
The Perfect Crime
Black Smoked Saison
Brewery
Evil Twin / Stillwater / Stone
Style
Black Saison
ABV
6.8%
Availability
Very limited draft, growler, and
one time 12oz bottle release
Rating
5 out of 5
Cheers
Beer Guy LA