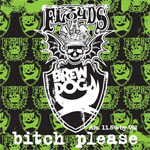 Sometimes you hear about a beer and think "wow that sounds like it could be really good!" And, depending on how much you trust a brewery and know your own taste, you can find some real gems. Then there are beers like Bitch Please which surprise you but not in the way you were hoping for.

Bitch Please is a collaboration beer from Three Floyds of Chicago and BrewDog of Scotland. BrewDog is one of my favorite brewers because they are basically a couple of bat shit crazy Scots that make really good beer. Three Floyds on the other hand, does not distribute to greater Los Angeles area, but I have always heard that they make some really great stuff.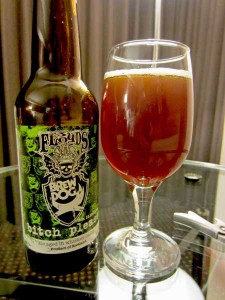 The beer is meant to be a Scottish take on a barleywine and, being a fan of both Scotch ales and barleywines, I was very much looking forward to trying it. The beer was brewed in August of 2010 when the brewers from Three Floyd's took a trip out to Fraserbrurgh Scotland to create a beer with BrewDog. The brewing process included the use of peated malts, "eclectic hops" (all from New Zealand with mostly Green Bullet and Nelson Sauvin), short bread, and toffee. It was then aged in Jura single malt whiskey barrels for eight months.
I was able to find this beer in LA, but I bought and tasted it while in San Francisco for SF Beer Week. The bottle I found was from batch 096 with a best by date of 3/19/16. The pour is a slightly murky amber with just a little bit of off white head. My first impression after pouring it was how smoky the aroma was, comparable to a super smoky scotch. There was also a distinctive peatiness with just a hint of sweetness. The first sip was almost like taking a sip of liquid smoke. This is not the kind of beer one just casually enjoys, it is the kind of beer that makes you respect it. My palate definitely took some time to acclimate to the smoke flavor, but slowly the sweet notes and peat came out. The flavor starts out smoky with a mossy peat note and it moves to a sweet caramel malt and finishes with a slight burn in the back of the throat and a lingering smoke. This beer was nothing like any barleywine I have ever had. It might be better compared to some sort of beer and whiskey cocktail.
Now, I'm not going to call this a bad beer, but it definitely is a beer for people with a very specific palate. I'd very much like to try this beer again, especially if I could age it for a year or so to see if the smoke mellows out at all, but at $10 to $20 for a 12oz bottle I'm probably more inclined to spend my money elsewhere.
| | |
| --- | --- |
| Name | Bitch Please |
| Brewery | Three Floyds / BrewDog |
| Style | American Barleywine |
| ABV | 11.5% |
| Availability | Brewed Once, Very limited availability |
| Rating | 2 out of 5 |
Cheers
Beer Guy LA
***UPDATE***
As of right now, the only place I know has any Bitch Please in stock is Total Wine & More in Tustin, but some of the smaller bottle shops and possibly Whole Foods might have some as well.