2020 IPA is a beer on a mission. Despite being for all intents and purposes a flood control channel, the LA river is one of the more interesting parts of Los Angeles's diverse geographic makeup. But sadly, because it is mostly just a concrete flood control channel, it doesn't get much love (except from the mud people). But there's change a foot! The L.A. River Revitalization Corporation is pushing their Greenway 2020 project, a campaign to develop a continuous 51-mile public green space along the river by the year 2020. And what better way to do that than with beer.
2020 IPA stays pretty close to the fold in terms of what you'd expect from Golden Road. Jesse Houck, Golden Road Brewmaster, describes it as "a medium malt-bodied red IPA with huge pine and citrus aroma and a touch of tropical." The biggest departure for Golden Road is that this beer is the first time they haven't used an actual photograph on their label, opting instead to use an artist rendering of what we can hope to see from the Spring St bridge in 2020. To help in this effort, part of the profits from the sales of this beer will be donated to the L.A. River Revitalization Corporation.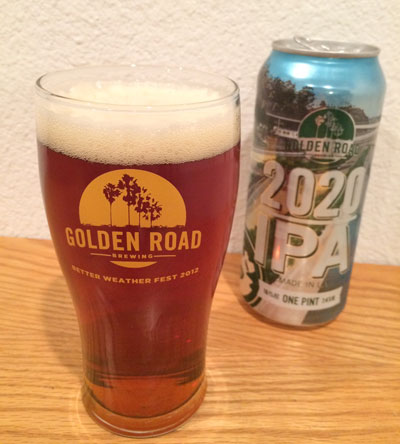 The beer pours a nice red amber with nice compliment of rocky off white head. The aroma has a nice balance of hoppiness, with notes of mango , sweet citrus, and pine, with a subtle doughy malt backing. Medium bodied with average carbonation. The flavor is similar to the aroma, starting off with a progression of pine, citrus, and tropical fruit hop notes and ending on a subdued doughy malt. The aftertaste has some lingering sweet citrus and pine notes with a distinctly dry booziness.
| | |
| --- | --- |
| Name | 2020 IPA |
| Brewery | Golden Road Brewing |
| Style | Red IPA |
| ABV | 7.4% |
| Availability | Seasonal release draft and cans |
| Rating | 4 out of 5 |
Overall this is a pretty good IPA, with a nice hop character and a mellow malt backing. I enjoyed this beer and am a fan of the cause, so I'd recommend picking some up if you're a fan of Golden Road's other IPAs. At this point it's not clear if this will become a yearly release, but I'm sure if it is popular with their fans it'll make a comeback next year.
Cheers!
Beer Guy LA