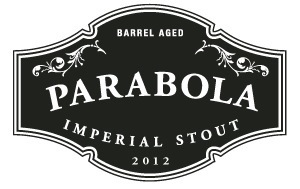 I'm here at Blue Palms Brewhouse in Hollywood for their Firestone Walker tap takeover. I'll be live blogging my review of The 2012 release of Parabola.
Parabola is Firestone Walker's annually released barrel aged Russian imperial stout. This brew is released around May or June and is relatively easy to come by if you know where to look. It generally has a strong chocolate malt character with hints of bourbon. This beer is also a component of their anniversary blend (to varying degrees each year).
—–

Pour is dark black with just a hint of brown head rimming the glass. Definitely a strong chocolate malt on the aroma with notes of oak, vanilla, and bourbon. Moderate amount of carbonation with a very creamy mouthful. The flavor starts with a bourbon bite with a hint of oak that moves to a deep dark chocolate with a bit of vanilla and molasses. The beer leaves you with an oaky, roasted malt finish with a slight burn on the back of the throat.
—–
Overall this is a great stout. I'm generally a big fan of imperial Russian stouts, and this one definitely delivers. I wish there was a bit more complexity and maybe a bit less of the burn, but those will probably happen with a bit of aging. I plan on picking up a few bottles for the "cellar" to see what develops. Currently you can get Parabola on draft at Blue Palms Brewhouse and in bottles at Whole Foods Venice.
Name
Parabola (2012 Release)
Brewery
Firestone Walker
Style
Barrel Aged Russian Imperial Stout
ABV
13.0%
Availability
Seasonal Release
Limited Bottle and Draft Release
Rating
4 out of 5
Cheers
Beer Guy LA