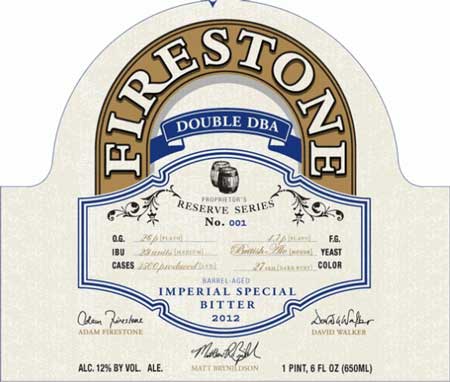 After much anticipation, my review of Firestone Walker Double DBA is finally here. I reviewed DBA a week back to refresh my memory and now we will examine the latest addition to Firestone Walker's Proprietors Reserve Series.

The history of Double DBA goes back to 2005, when Firestone Walker wanted to make a special beer for their 10th anniversary the next year (a tradition they have kept up every year since). This anniversary beer is actually a blend of a number of different Firestone Walker beers that usually don't see the light of day. But every year, people request to get some of these limited beers and that is where Double DBA comes from (and Velvet Merkin). Double DBA is essentially DBA brewed at double strength and matured for an extended period. The same DBA malts and hops were used, but at twice the amount. Like DBA, Double DBA is partially fermented in Firestone Walker's patented union barrel system (the balance is fermented in stainless steel). After fermentation, the beer is put back into used union barrels as well as bourbon barrels, where it is aged for one year. This beer has previously only been available at the tasting rooms in Paso Robles and Buellton and very rarely at some special events. In 2012 they announced that Double DBA would be added to the Proprietors Reserve Series, which includes Walker's Reserve Porter, Double Jack, Wookey Jack, §ucaba (AKA Abacus), and Parabola. Like §ucaba and Parabola, Double DBA is suitable for aging and come in a protective box that helps prevent any light spoilage.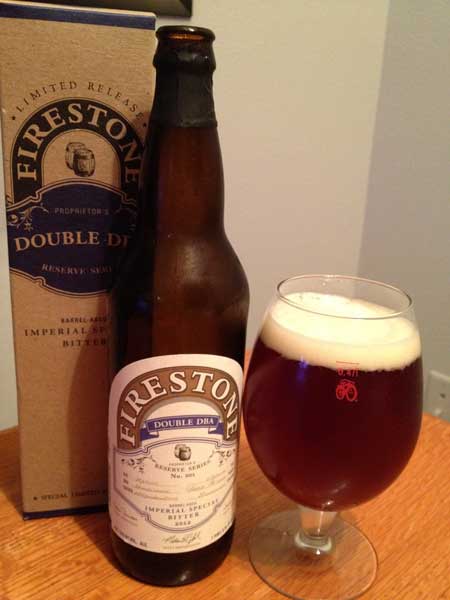 Pour is a slightly cloudy reddish amber with a good amount of off white head that sticks around for a long time. The aroma has a strong maltiness to it with notes of caramel and vanilla with a bit of oaky bourbon. It has a medium body and a good amount of carbonation that gives it a nice mouthful. The flavor starts with a good hit of bourbon and moves to a sweet malt with notes of molasses, caramel, and vanilla with a bit of bitter hops that compliment the malty finish. The aftertaste has a persistent bitter maltiness with a dry bourbon oakiness.
I really enjoyed drinking this beer. The flavor leans a bit more to the sweet side than I usually like, but the bourbon and hop notes reel it back in for me. I'm very interested to see how this one ages as well, because there was a bit of spiciness at the finish that might mellow out a bit. This beer should be available at most reputable beer retailers and will run you about $16 for a 22oz bottle, but act fast because only 3,500 cases were produced. A very limited amount was also kegged and may pop up at some of the special events happening in the next moth or two, like Far Bar's Summer Beer Fest.
| | |
| --- | --- |
| Name | Double DBA |
| Brewery | Firestone Walker |
| Style | American Strong Ale |
| ABV | 12.0% |
| Availability | Limited Annual Bottle and Draft Release |
| Rating | 4 out of 5 |
Cheers!
Beer Guy LA