I'm at the Firestone Walker tap takeover currently happening at Far Bar. I'll be updating this as soon as they pour me some at 7pm.

—————–
The tap is now flowing. 8oz pour for $8.

—————–
Sucaba is a barrel aged English barleywine weighing in at 12.5%. Pour has very little head with minimal lace. Rich aroma with sweet vanilla, coconut, and a bit of oak.
—————–
Thick creamy start, definitely a sipping beer. The flavor starts with a sweet caramel and toffee with a hint of fig that moves to a nice smoked malt flavor and then finishes with bittersweet chocolate with a subtle coffee note on the finish. There is a definite bourbon burn on the end. Overall a very solid barleywine.
—————–
Good to the last drop.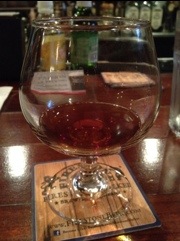 —————–
I was also fortunate enough to get to do a side by side tasting of Abacus 2011 and Sucaba 2012. The differences were quite striking, with the Abacus having a much stronger malt characteristic, bolder oak notes, and almost none of the sweetness that the Sucaba had. Now to be fare the Sucaba was draft and the Abacus was bottled aged, so in all fairness I should have compared it with the bottled version of Sucaba, but I wasn't really in the mood to be picky.
—————–
If your interested in this beer head to Far Bar ASAP, as only two kegs of Sucaba made it down to LA. As for bottles, Bevmo and Whole Foods got a few but they will probably go fast.
Name
Sucaba (AKA Abacus 2012)
Brewery
Firestone Walker Brewing Co
Style
English Barleywine
ABV
12.5%
Availability
Seasonal release,
limited draft and bottle availability
Rating
4 out of 5
Cheers
Beer Guy LA