In celebration of IPA Day 2012, Golden Road Brewing released custom IPA number 1 Wolf Among Weeds IPA, an ode to lovely plant we call hops.
You might be asking yourself, "self, what is a wolf doing in the weeds and better yet don't we only have coyotes in Los Angeles?" The answer to that question is a quick lesson in Latin. The Latin name for hops is humulus lupulus, which roughly translates to wolf among the weeds and was given that name by the Romans because of how they observed this plant grow in the wild. Tony Yanow has said that the name should not be interpreted as meaning that this beer is a wolf and that everyone else's beer is the weeds. Unlike their year round Point The Way IPA, this one is not meant to be sessionable. Coming in at 8% ABV and made with four different varieties of hops(Galena, Warrior, Cascade, Zythos, and Simcoe), this beer tries to showcase the complexity of flavors that only a great IPA can have. The only problem is that Golden Road is only releasing 500 cases of this bad boy and it's not clear if they will be doing a second brewing of it any time in the future.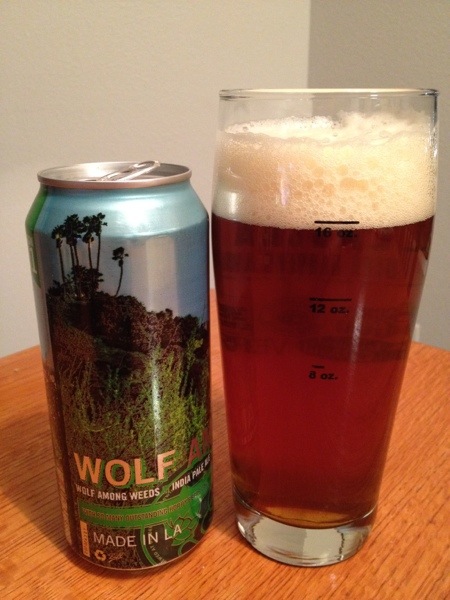 The pour is a slightly cloudy reddish amber with a good amount of rocky head that leaves a nice lace around the glass. The aroma has a grapefruit hop with a good amount of sweet caramel maltiness and some light grassy notes. It has a light body and a lively abundance of carbonation. There are a lot of hoppy flavors going on in this one. It starts with a sweet bready malt that is decisively overtaken by a wave of grapefruit and citrus hops that moves to a grassy hop and finishes on a piney note. The aftertaste has a bitter, citrus rind flavor with a bit of maltiness and a slight warming at the back of the throat.
I have to say that I was really impressed by this beer. This is exactly the kind of strong West Coast IPA I have been waiting for from Golden Road. They hops are strong but not completely overpowering and provide for a great drinkability. I see this beer as a great example of what Golden Road can do and will be very interested to see what custom IPA number 2 has in store. If you want to pickup a 16oz 4 pack, I've got word that Sunset Beer Co. and Buzz Beer and Wine should be receiving some on 8/3/12, but be warned it will probably sell rather quickly. This brew should also make an appearance at some of the other retailers that sell Golden Road cans (like Whole Foods), but I don't have any definitive intel on that. They also filled up 6 kegs of this beer, but they will probably all go to the Pub at Golden Road.
***Technically this beer is their second custom IPA because last fall they released Burning Bush Smoked IPA, but it only saw limited draft release at a few special events and was never canned. But who's counting… Beer Guy LA is dammit!***
| | |
| --- | --- |
| Name | Wolf Among Weeds IPA |
| Brewery | Golden Road Brewing |
| Style | Double IPA |
| ABV | 8.0% |
| Availability | Limited Can Release |
| Rating | 4 out of 5 |
Cheers!
Beer Guy LA