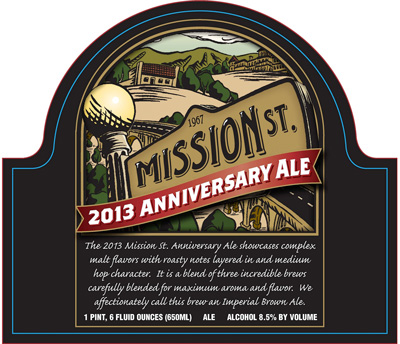 Trader Joe's is the life blood of most people in Los Angeles. Between the affordable produces and classy frozen foods, I find myself there on a pretty regular basis. The beer selection can be a hit or miss depending on the store you go to, but there are a few Trader Joe's exclusive brands that you will find at all locations. The best of which would probably have to be Mission Street, and what better an introduction to this "brewery" than to review their 2013 Anniversary Ale.
We're gonna have a sidebar here to take a moment to discuss contract brewing. Contract brewing, is the practice of having someone produce beer for you at a brewery that is not your own. One of the classic examples of this is when you go to a bar or restaurant and they have a house brand beer. All of the Trader Joe's exclusive beers are brewed in this fashion at various breweries around the country. For example, Mission Street is brewed by Steinhaus Brewing of Monrovia or Paso Robles, depending on who you ask. Trader Joe's is based out of Monrovia, which leaves us with Paso Robles. Through the powers of deduction (and Google), that means that Trader Joe's is contracting Firestone Walker to make these beers (even the label design is almost identical in shape and style to some of Firestone Walker's).
Now that we have that all cleared up, let's look at the 2013 Anniversary Ale itself. For the past few years, Mission Street has released an anniversary ale in March. This brew is a blend of several of their year round offerings, probably the Brown Ale has the highest concentration, creating a mix of malt and roasty flavors with a medium hop which they call an imperial brown ale.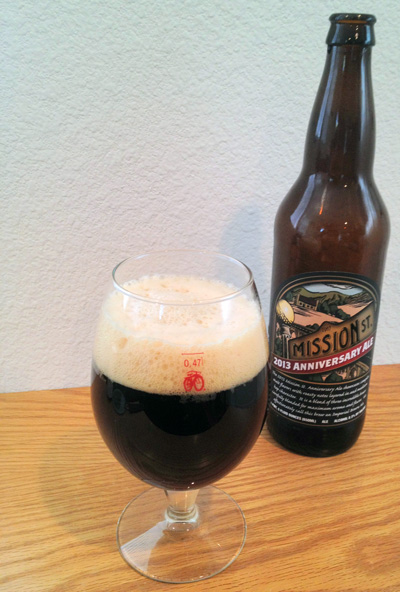 The pour is a very dark brown with a slight red hue and a creamy tan head that leaves a moderate lace. Aroma is very much like a brown ale, with a sweet malt and a bit of vanilla giving it an almost cola like quality with a slight hint of grassy hops. Medium bodied with a good amount of carbonation. The flavor starts with a sweet, bready malt and moves to a subtle grassy hop and finishes with a bittersweet chocolate malt. The aftertaste has a lingering coffee and bittersweet chocolate maltiness with a slight bit of copper twang.
For the most part, this was an enjoyable brown ale with a good kick. The malt really takes center stage in the aroma and flavor, with barely any hops coming through. There was a slight bit of copper on the aftertaste, but it did not have any negative effect on the flavor. I think the best thing I can say about this beer is that has to be the most economically priced beer that I have actually enjoyed. Coming in at the bargain price of $3, I can't recall another 22oz bottle at that price point that I enjoyed this much. If you are a fan of brown ales, or just getting a great deal, I'd suggest heading down to your local Trader Joe's and picking one of these up. It's not a world-class brew, but then again it's only $3.
Name
Mission Street 2013 Anniversary Ale
Brewery
Steinhaus Brewing/
Firestone Walker
Style
Brown Ale
ABV
8.5%
Availability
Seasonal Bottle Release
Rating
4 out of 5
Cheers,
Beer Guy LA