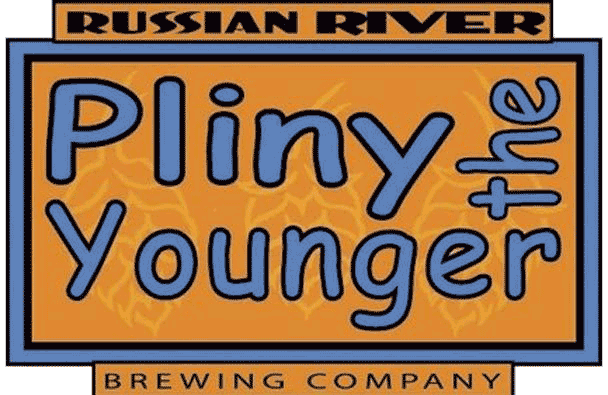 Where better to start than the top. For my first review I have decided to pick a beer that some have said is the greatest craft brew ever made, a beer that people are willing to wait 6 hours in line for a taste of. Yes, the one the only, Pliny the Younger.

Pliny the Younger is the crown jewel of Russian River Brewing Company's India pale ale lineup, which also includes Russian River IPA,
Hopfather, Blind Pig, and Pliny the Elder. Pliny the Younger, a triple IPA, is a bigger, bolder, stronger version of their double IPA, Pliny the Elder. The problem being that to get all that into a beer takes quiet a bit of time, effort, and ingredients. Because of these facts, Russian River only brews Pliny the Younger once a year.
To call the annual release of this brew a mad rush of frothing craft beer fans covers the description of most Pliny the Younger release events. But due to angry Beer Advocate reviews and Yelp postings, some bars decided to make their 2012 release a more relaxed event. A couple of bars even used the release as an opportunity to put on a charity raffle for the opportunity to have some any time during the next month.
To get the full experience I went to two Pliny events. The first was a Twitter release at Mohawk Bend in Echo Park and the second was the release party at Verdugo Bar in Eagle Rock.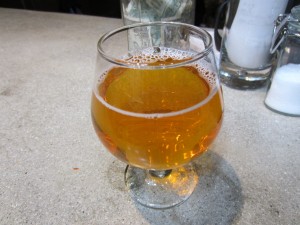 The Mohawk Bend event was a very laid back walk up and order your drink type of event. On the opposite end of the spectrum, I had to wait for an hour and a half in line just to get inside at Verdugo Bar.
Enough with the back story, lets get to the beer. The pour has minimal carbonation and almost no head and a strong cedar aroma with just a hint of yeast. The first sip is surprisingly crisp for an 11% ABV triple IPA. The initial flavors are of cedar hops and slightly sweet floral notes that progresses to nice citrus note and subtle dry hop finish with hints of pine. Overall a very different class of IPA, that is able to bring the amazing hop flavors without beating you to death with them.
I would highly recommend this beer if you get the chance to try it, even if your not a fan of most IPAs, as it is able to highlight the best qualities of the style without any of the usual harshness that can dissuade people for enjoying stronger IPAs. Though most places have already tapped their kegs for this year, I know that it will be available at the ColLAboration Winter Fest on February 26th and Tony's Darts Away in Burbank, who will be stealthily (aka no press, Facebook, or Twitter announcements) tapping their keg within the next month.
But to say that it is worth waiting six hours in line for… I'm not sure I can fully endorse. Though it is an amazing beer, which I do look forward to sampling again in the future, I can think of a few much easier to acquire brews that are pretty close.
Name
Pliny the Younger
Brewery
Russian River Brewing Company
Style
Triple India Pale Ale
ABV
11.0%
Availability
Once a year (February or March);
Very limited draft only release
Cheers
Beer Guy LA
PS. Feel free to leave some feedback if you feel I have wronged the English language in some way, as this is the first thing I have ever written that wasn't forced upon my by work or school.
******PLINY UPDATE******
Two more tastings have come up on the radar:
38 Degrees Ales House in Alhambra on Saturday Feb. 25 @ 11:30 AM
Lucky Baldwin's in Pasadena on Mar. 6 possibly around 1pm (no info for this year, but that is when they did it last year)