I like to think I have my finger on the pulse of Southern California beer, and for the most part I can say that I know a good deal of whats going on and coming up in the LA beer scene. Stone Saison was the exception to this. When they posted the picture on Twitter, I wasn't sure if it was an early April fools joke or not. After talking about it with Brewmaster Mitch Steele and getting to try it myself, I can attest that this beer is no joke.
I kind of had this hope that as Greg Koch was departing for the airport to begin his sabbatical, he rolled down the window and yelled "And one last thing, make a saison!" but in reality Stone has been working on this beer for quite some time. Stone Saison probably got on the drawing board when Stone purchased a farm outside San Diego in mid 2013 (as saisons are also called farmhouse ales). The beer is made with lemon thyme and lavender from Stone's 19-acre organic farm as well as grains of paradise and lemon zest to create a uniquely Southern California twist on a classic beer style. But there's also a secret ingredient that you won't find listed on the label, habanero peppers. During the recipe tweaking phase of this beer, Greg Koch really wanted to accentuate the pepper flavors that saisons possess. To accommodate this request Mitch Steele used grains of paradise, but in a truly Stone twist Greg suggested adding habanero peppers to add both spice and heat to the beer. The final product has just enough habanero to keep it interesting but not enough make it a hot pepper beer.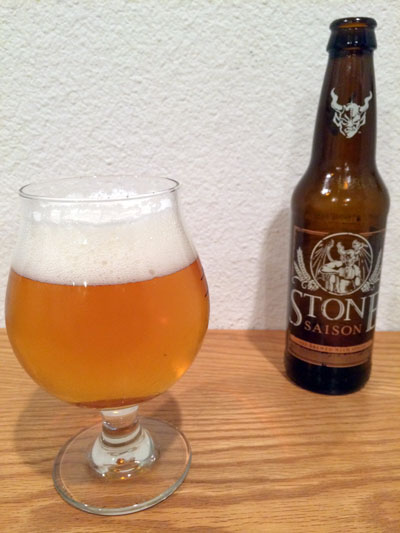 The beer pours a slightly hazy golden-yellow with a good amount of bubbly white head. The aroma is pretty grassy, with a good amount lemon zest to it and has a very subtle chile pepper and biscuit malt in there as well. It has a medium body with a subtle amount of carbonation, which is fine for the style. The flavor starts with a mild biscuit malt that leads into some subtle fruity Belgian yeast esters, vegetal chile pepper, grassy herbs, and wraps up on a pronounced lemon zest. The finish is rather dry and has a unique spiciness to it, with a subtle burn at the back of the palate somewhere between black pepper and hot peppers, accompanied by some lingering lemon, grassy herbs, and mild biscuit malt.
| | |
| --- | --- |
| Name | Stone Saison |
| Brewery | Stone Brewing |
| Style | Saison |
| ABV | 6.0% |
| Availability | Annual seasonal release |
| Rating | 4.5 out of 5 |
I'm usually pretty hard on Belgian and Belgian style beers, but this one was pretty much what I was hoping for. The mix of the herbs, pepper, and lemon work really well and help to balance out each other. By no means is this your traditional style saison, but fans of the style should be able to appreciate the artistic license that Stone has taken here. This beer actually marks the first time Stone has done a seasonal release, with Stone Saison only available during the Spring and Summer months (all those other Stone beers that seem to come out at the same time every year are actually labeled as "Special Releases"). You should start to see this beer in 12oz bottles and on draft starting April 14th at most places that carry Stone beers. So try it and see what you think, because I'll definitely be revisiting this one as things start to warm up this Summer.
Cheers!
Jeff Prosser