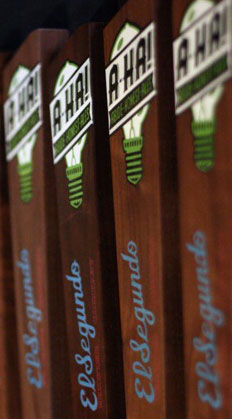 When you think about beer food, most people would go with burgers or pizza. But some times odd combinations make for interesting results. I was a bit surprised when I heard that Tender Greens, a restaurant that I'd heard about as "that salad place" from friends, was doing a collaboration beer with El Segundo Brewing. With an open mind and, after taking a look at the menu, a healthy appetite I headed on over to their Hollywood location.
I was greeted by Eric Hulme, one of Tender Greens regional chefs and one of the brewers of the beer. As we talked, he told me how he had fostered a relationship with the guys at El Segundo by hosting them at Tender Greens beer garden events. After Eric got to help out on a few brew days, he suggested that a collaboration might be in order. As the discussion progressed, they all decided that it should be something a bit different from El Segundo's normal line up and, going along with Tender Green's locally grown philosophy, feature some sort of local produce. Eric, a homebrewer in his free time, made a small test batch of a French saison with locally grown Bing cherries. The combination worked, and was scaled up for El Segundo's brewhouse (including the 300 pounds of cherries Eric had to pit by hand). The ensuing beer, Schot in Het Donker, Danish for shot in the dark, is El Segundo's first commercially released Belgian style beer.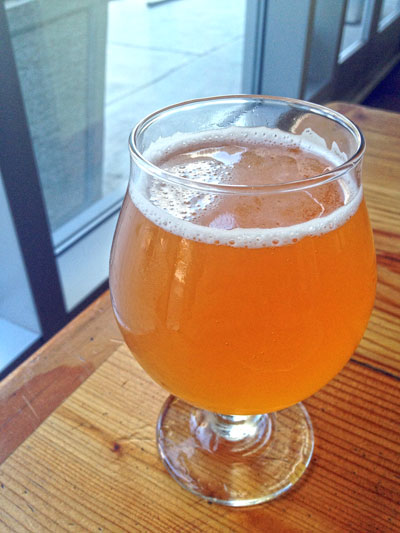 The beer pours a slightly hazy golden amber with a light bubbly white head. Aroma has a light refreshing saison yeastiness with a bit of floral notes and a mild cherry tartness. Its got a medium body with a light mouthfeel and mild carbonation. The flavor starts with a sweet fruity note that moves to a mix of Belgian yeast, earthy with a bit of spice, some floral notes in the middle, and finishes on a mild tart cherry. The aftertaste has a bit of lingering cherry that dissipates to a refreshing floral hoppiness.
I got to try this beer with one of their specials, a lamb sandwich with a house salad on the side, and have to say that it complimented both the rich savory flavors of the lamb and the lighter aspects of the salad equally well. Eric told me that he feels Schot in Het Donker could pair well with almost everything on the menu, and I'd have to agree. They only produced 64 kegs, which will be sent out to the 12 Tender Greens locations and a few for El Segundo, so if you are interested in trying this beer be sure to do it in the near future. I asked if they had plans to either do another batch or another collaboration, to which Eric said we'd just have to wait and see.
| | |
| --- | --- |
| Name | Schot in Het Donker |
| Brewery | El Segundo Brewing |
| Style | Saison |
| ABV | 7.2% |
| Availability | One time limited release |
| Rating | 4 out of 5 |
Cheers!
Beer Guy LA