In honor of Blizzard Nemo, I present my review of New Belgium Snow Day. This beer dates back to 2003 when Fort Collins, where New Belgium is located, had a 37 inch snow storm. The brewers used this storm as an inspiration for Snow Day, with the dark malt bill symbolizing the dark clouds before the storm and the hoppy flavors representing the glorious landscape after the storm had passed. This beer has become New Belgium's winter seasonal and can be found in six packs or as part of the winter Folly Pack.
Pour is a very dark brown with a nice frothy off white head the dissipates rather quickly but leaves a good lace. Earthiness dominates the aroma with hints of oak, molasses, and piney hops with just a pinch of citrus. Rather light bodied with a good amount of carbonation. The taste starts with a toffee malt that progresses to an earthy barley note and ends with a mix of pine and grapefruit hops. The aftertaste has a lingering citrus rind bitterness that mingles with an earthy coffee note.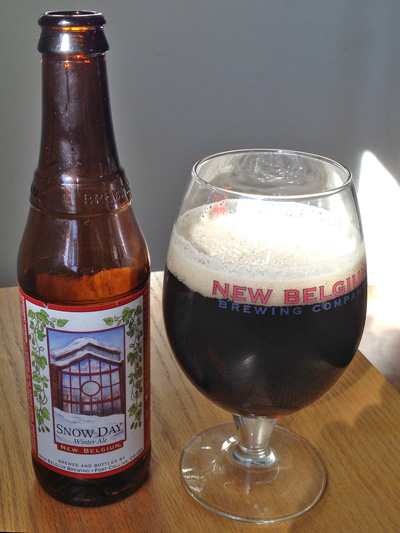 This is one of my favorite winter beers, though technically because of the hoppiness it's more of a black ale which may be why I love it so much. It really just hits all the right notes for me, with the subtle earthiness helping to balance out the hops. I highly recommend picking up some of this brew while it is still around before it disappears till next winter.
Name
Snow Day
Winter Ale
Brewery
New Belgium Brewing
Style
American Black Ale
ABV
6.2%
Availability
Seasonal Release
Widely Available
Rating
5 out of 5
Cheers
Beer Guy LA