When most people think of taking a beer vacation either San Diego or the Bay area come to mind. Though both are great destinations in their own right, some beer lovers may might want to stray from the beaten path. The Santa Ynez Valley, mostly known for its wine, Danish culture, and miniature horses, has become an up and coming beer destination. Like many parts of California, craft beer has seen a bit of a boom in this area and can make for a great getaway from the hustle and bustle of Los Angeles.
The Santa Ynez Valley, which is located just north of Santa Barbara, has long been known for two things: wineries and the Danish American town of Solvang (and the Chumash Casino if you gamble). The movie Sideways really cemented the Santa Ynez Valley as a wine destination, as the movie takes place and was shot there, but in recent years craft beer has slowly asserted itself in the evolving culture of the Valley. With this in mind, I set out to the Santa Ynez Valley in order to take in some of the local flavor and explore the regions craft beer offerings.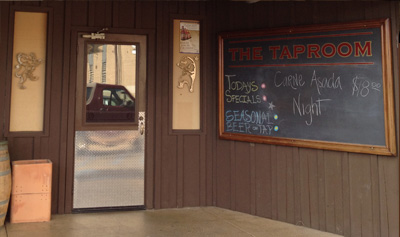 The most established beer destination would have to be Firestone Walker, who has had a presence in Buellton since 1999 when the bar opened and adding the taproom restaurant in 2004. For a very long time the Buellton facility didn't actually produce any beer, but with their most recent edition, The Barrelworks, Firestone Walker has now began producing sour beers there. The facility consists of a bar and restaurant that are open 7 days a week and The Barrelworks, which includes their sour and barrel aged beer tasting room, which is currently open Friday thru Sunday (with plans for expanded hours by the summer of 2013). The bar has pretty much every Firestone Walker beer that is in-season on tap. You may also see some brewery exclusive taps depending on when you visit, like their taproom only hefeweizen. In contrast, The Barrelworks is where you will find the limited release and one off beers ranging from sours like Bretta Weisse and blending components like PNC, a buckwheat stout used in their Anniversary Ale. I highly recommend the restaurant if you feel like sticking around for dinner, as the food is top-notch. They also sell beer to go, with growlers available from the bar and bottles of year round, seasonal, and some vintage special releases. Keep an eye on their website and Twitter for beer releases and special tastings of their seasonal Proprietors Reserve beers, like Parabola, Anniversary Ale, and Velvet Merkin (which will be bottled for the first time this year). You can read more about the Barrelworks in Dave Willis' article A Journey to the Center of the Barrel.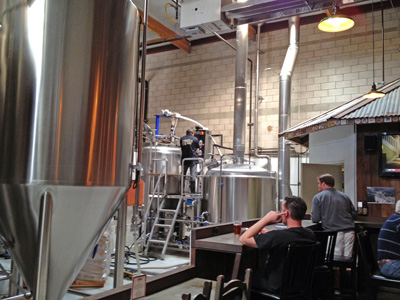 The second place you should hit is right across the freeway from Firestone Walker. Figueroa Mountain Brewing Co has been brewing in Buellton for the past 2 years and have won a number of awards for their beers at competitions around the country. Tucked away in an industrial park, you might not know it was there if not for the sign out at the main road. Once you find it, you'll see that this is a very popular place with the locals, feeling like a mix between a brewery and a roadhouse bar. Open seven days a week, their taproom provides a very fun experience. The taproom is built into the actual brewery with one edge of the bar literally 10 feet from the fermenters. They offer all of their year round and seasonal beers, like the Big Cone Black IPA, as either pints or as part of a tasting flight. Though there isn't a kitchen, they do offer pretzels and mustard to munch on. There are several large TVs around the bar that they show whatever the sport du jour is. They also have an outdoor patio with several tables and more notably, a horse shoe pit. They have live music on the weekends as well as a trivia night on every other Wednesday. They offer to go beer as well, with bottles of their year round releases and growlers. If you stay at the Hamlet Inn in Solvang, you will get a tasting passport good for 2 for 1 tasting flights.
Though Firestone Walker and Figueroa Mountain are the biggest attractions in town, there are a number of smaller places worth hitting. The first place I'd recommend stopping by is Valley Brewers in Solvang. This homebrew shop has the latest information on all the local beer happenings and places to hit, like the upcoming Santa Ynez Beer Month in May. It is also a full service home-brew shop if you want to pick up some supplies for your next homebrew.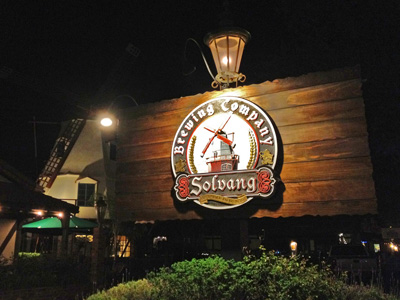 Though you may be wooed by their windmill and sign, I'm a bit hesitant to recommend the Solvang Brewing Co. and the attached bar, The Viking Room. This microbrewery has been around for a number of years, with the locals telling me that after hiring a new brewer in 2012 it has greatly improved. I'm not gonna lie, it feels a bit like a BJ's, with mediocre beer and a greater focus on the atmosphere and food. If you do stop by, I'd recommend trying their ESB and the Vallhala IPA (and the carnitas nachos).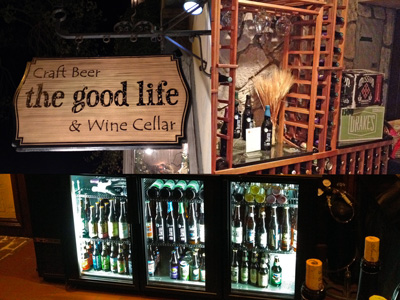 Just down the street is a place that I can highly recommend. Tucked in the basement below The Mole Hole is a great beer and wine tasting room named The Good Life. Run by a husband and wife duo, this intimate tasting room has a great selection of craft beer that you can buy for there or to go, as well as nightly beer flights. Alfred, one of owners, is very knowledgeable about his beer selection and can help you find the perfect brew. Their selection, though a bit limited, has a good variety of styles with a bit of a lean towards California breweries. If you happen to be traveling with some non-beer drinkers, they offer wine flights as well. They also stand out as being one of the few places in Solvang that is open after 6pm. Bargain shoppers can find 2 for 1 tasting flight coupons from some of the hotels in the area and at some of the other wine tasting rooms around town. On a side note, they have an unbelievable price on Fifty-Fifty 2012 Eclipse if that's the kind of thing you're into.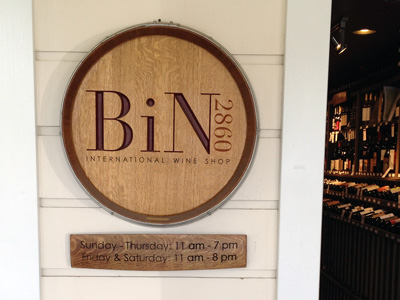 On a similar note, if you find yourself in the town of Los Olivos, head on over to Bin 2860. Owned by Fess Parker, this store originally started out as a wine retailer but has slowly added an increasing amount of craft beer, to the point where beer makes up 40% of their sales (with that number expected to grow in 2013). They offer daily beer tastings and a wide selection of beers for purchase. The tasting had a great variety of different styles and breweries and I was able to pickup a few bottles that I hadn't been able to find down in LA. The staff was very knowledgeable and knew quite a bit about their beer. A half off wine or beer tasting card can be found at some of the nearby wine tasting rooms and at Valley Brewers.
Randy's Taproom and the Wandering Dog Wine Bar were also recommended by some of the locals but I was unable to visit them on my trip. No matter where you go in the area, you will usually find at least one or two offerings from either Firestone Walker or Figueroa Mountain. In Solvang, the Danish Red Lager from Figueroa Mountain can be found at almost every food serving establishment.
While you're there I highly recommend trying your hand at some wine tasting. There are a number of great wineries and tasting rooms in the area and it's always good to expand your palate. A good number of people told me "it takes a lot of beer to make great wine", so you might even be able to strike up some good beer conversations while out tasting wine. Some of the wineries that I'd recommend would be Dascomb Cellars, Sort This Out Cellars, Presidio Winery, Andrew Murray Vineyards, and Saarloos and Sons.
So next time you're thinking of taking a beer trip, think Santa Ynez Valley and get your taste buds ready for some great beer, wine, and ebelskivers.
Cheers!
Beer Guy LA