I rode my bike to meet up with Beer Guy LA the other day. I arrived early. He was on his way from across town and said he would be at least twenty minutes. I said hello to his dog Brewsky. My phone died. I was locked out. I sat on a lawn chair and smoked a cigar. When he finally arrived he walked into his yard pushing open his gate. "Elcar! We're leaving," he said. "We're catching a lift cause I'm not driving anymore today." "Oh" I said. "Yeah," he was opening his back door. "I want you to write about it." "Who takes a taxi in Los Angeles?" I said. "We'll be waiting for an hour and it will cost sixty bucks." His phone rang, it wasn't a long call. He hung up. "Our ride will be here in ten minutes." I didn't believe him.
Let me explain. I've never taken a taxi in Los Angeles. I almost never take taxis. I lived in New York for three years and I took a taxi maybe 10 times. I took a taxi in Florida once. And once in New Mexico. They're too expensive. I share a car with my girlfriend which basically means I never have the car. Obviously this can be a problem in Los Angeles. Here, the thought of only having one car per couple is moronic. But cars are expensive. The economy is in ruins and the planet is not far behind. So, If I'm not picked up by a friend I ride my bike or take the metro or both. I don't like to drink and drive. I'm way too neurotic and nervous to do that. If I have one drink I get this overwhelming feeling of guilt behind the wheel. Like my father is watching me from the grave saying, "I told you not to do that." That being said, I do like to drink beer and living in Los Angeles can test your boundaries on when it's appropriate to drive or not. I know, we've all done things we probably shouldn't have. At some point, you'll lose. So it's in everyone's best interest to be safe about these things.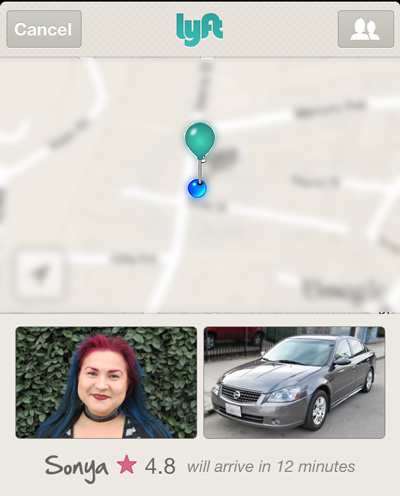 Jeff was explaining the ins and outs of our gypsy cab, a term I thought he had made up at the time. He was able to make all the arrangements from his smartphone using the Lyft app. Being the luddite that I am, Jeff was kind enough to show me how it all worked. The phone pinpoints your location and sends your request to any nearby Lyft drivers. Lyft isn't technically a taxi service, but an on-demand rideshare. At your destination, you are given a suggested donation and can choose to give more or less. Payment is done electronically through the app. You're also given the chance to rate your driver on a 5 star scale (at the same time the driver is allowed to rate you as a passenger) which leads to a reputation in the system that both sides can look at next time a request is made for a ride. Sonya, our driver, was not far away. It really was only going to be 10 minutes. There was a picture of her and the Nissan Altima we'd be riding in. I stared at Jeff's Iphone watching her little car creep down the blue streets of google maps. "She's here." I said. I walked outside and looked down the street and sure enough there was Sonya's Altima. I knew it was our Lyft because of the giant pink mustache that was on the grill. That's right. A giant pink mustache was on the grill.
Sonya was a character, to be sure. Her hair faded from bright green roots to Smurf blue. She wore pink fishnets over black tights and knee-high Miss Piggy stockings. She smiled at us. Her Altima was very clean. We got in. I buckled up. I was in the back. Jeff spoke the address of our destination into her smart phone. The phone acknowledged. Sonya pushed her blue tooth into her ear, and we were off. "You want to listen to music?" she asked, somewhat shyly. "I don't know what you would like to listen to, but you might not like what I have." "Well, now we have to know what you have?" I said. She turned it on. It was angry. Loud. Not my thing. "Slip Knot," Jeff said. Sonya was impressed that he knew the tune so fast. "I get around," he said.
Jeff and I immediately started chatting her up. Slip Knot was turned down. She was very pleasant to talk to. She was a mother from Norwalk. When asked how did she got her job with Lyft: "I just happened to be playing on craigslist for no reason. I didn't even know they had jobs. So I looked at the jobs and this was one I picked." Sonya, as it turns out, was one of the first drivers. They launched two months ago. So far she seemed to be really enjoying her job. "I've met a lot of interesting people," she said. "I met some head honcho that was a financial analyst. And I asked him so what do you do? And he said, 'analyze finances.' And I was like, yeah. And I would have never met someone like that had it not been for my job."
She drove at a good speed. Safe. She was fun to talk to. Open. "I think a lot of normal taxi drivers can be creepy. Especially if you're a woman and it's late at night. You don't want to get in a cab with some creepy dude. So when they see me. I'm not creepy and they can relax. And there are a lot of us around. I stay in Los Angeles. But there are drivers all over. Great if you want to go out and not drive. We're also 20% cheaper," she added with a smile. "So do you drivers all meet up somewhere?" I asked. "Sometimes I see that another car is around the corner and I'll drive over and introduce myself. It's a cool way to meet them." They also keep in contact via a private group on Facebook. "It's just a great way to get around town. And with donations, I mean, I took this man across the city. I mean across the whole city and it was like ten dollars. You know. It's donations, so, what can you do? But that's what's great about it. I drive and sometimes people are really generous. Sometimes they aren't. But If you don't donate enough, you'll be flagged as a low donator."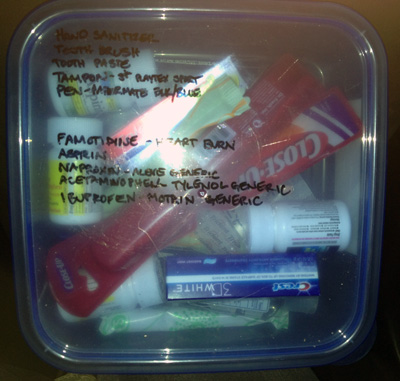 We weren't far from our destination in Highland Park, The Hermosillo, and for the remainder of the drive Jeff talked beer with her. We pulled up to the curb. "This has been great," I said. And I was telling the truth. It was great. Fast. No hassle. Sonya rated us as five star passengers, I thought deservingly so. Jeff rated her as a five star driver. The recommended donation was only $13. "That's amazing," I said. Jeff added a few more as tip. Everything is done through the phone. The future is now. It was time to get out of the car. I was out of questions, that was until I noticed a small Tupperware container under the seat. "What's that?" I asked. "Oh, that's my emergency kit. It has all sorts of things in there you might need. Things a woman might need. Tampons, you know. And there's also a toothbrush and some Kleenex. Hand sanitizer. You know. Another driver said that we should have free condoms to give out, but I was like, they have to be on request, because people would just take them. It'd get expensive, you know."
Bless her.
Don't drink and drive. Get a Lyft.
Cheers!
Dane