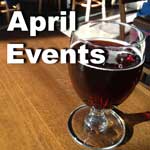 Here is a list of upcoming events in April! This month Deschutes Brewery from Oregon is rolling into town and will be making a bunch of stops around town to show off their lineup of beers.
(UPDATED 4/24/12)

Firestone Walker Night in Pasadena
Haven Gastropub in Pasadena Tuesday 4/24/12 @ 6:30pm
"If you're in the Pasadena area tomorrow night, Haven Gastropub +Brewery is featuring great brews by Firestone Walker Brewing Co. Firestone Walker Night is Tuesday, April 24th at 6:30p with the following on tap: Union Jack, Double Jack, Hemp Ale, Walker's Reserve Robust Porter, California Pale 31, Double Barrel Ale, Unfiltered Double Barrel Ale, Sucaba, Velvet Merkin, and a few surprises to be revealed that night! Who knows, you may even get to meet David Walker himself!" If you're interested in trying this years Sucaba (aka Abacus) this may be one of your last chances. As a SPECIAL PROMOTION, from 6pm to 8pm the first 5 people to tell a Firestone rep that they heard about the event from Beer Guy LA will get some wonderful Firestone Walker swag.
Waldos' Special on Tap
The Surly Goat in West Hollywood Tuesday 4/24/12 @ 6pm
The Surly Goat is tapping a super rare keg of Waldos' Special from Lagunitas Brewing Co. This beer is a super hoppy double IPA, coming in at 9.2% ABV, that was specially brewed for 4/20.
POSTPONED EVENTS
The Bruery/Eagle Rock Go Team! Release Party
Far Bar in Little Tokyo ??? (The beer needs to ferment for another week so the event has been postponed)
"We're proud to be hosting the release party for the Bruery's brand new collaboration beer with Eagle Rock Brewery "Go Team!". This is a Belgian Style Red Mild Ale at 4.7% ABV. With knowing the great beer, passion and genius that comes from our friends at both of these breweries, we're guessing that this beer will be superb. The crews from both breweries will be here to join all of in tasting and unveiling this very special release We'll also have a few other goodies on from both breweries as well as some food specials."
3rd Annual Lagunitas 4:20 Night
The Surly Goat in West Hollywood ??? (Had to be rescheduled due to transportation issues. I'll let you know when more info is available)
"The Bar opens at 4:20 for rare beers & staff from Lagunitas." Through my hard core investigative journalism, I found out they will be getting a keg of Lagunitas Waldo Special Ale.
THINGS THAT ALREADY HAPPENED
New Belgium Lips Of Faith Night
The Surly Goat in West Hollywood
Thursday 4/5/12 @ 6pm
"A boat load of delicious rare finds from the New Belgium Lips of Faith Series. We will have a rep present to answer all your burning questions."
Hangar 24 Barrel Roll #4 Hammerhead Release party
Sunset Beer Co in Echo Park
Friday 4/6/12 @ 7pm
Hammerhead is the the latest release in Hangar 24's Barrel Roll series. It is a barrel aged barleywine that will surely not disappoint.
Deschutes Brewery Scavenger Hunt & Tasting
Far Bar in Little Tokyo
Monday 4/9/12 @ 5pm
"
No one will deny it: scavenger hunts equal good times! Couple a scavenger hunt with some damn tasty beer from Deschutes Brewery and you have pure fabulousness. Join us and start the hunt at Far Bar – we'll give you a list of several things you need to find and take a photo of with your smart phone. Send the photos to Deschutes Brewery as you take them – they'll be judged on correct completion of all tasks, best photo and best team name. So gather your friends and take up the gauntlet to win prize packages from Deschutes Brewery for 1st, 2nd and 3rd place. You could even be strutting home with the coveted Golden Growler. See you here!"
Deschutes Base Camp Kick-Off Party
Mohawk Bend in Silver Lake
Monday 4/9/12 @ 8pm
"
Join us as we kick off five whole days of celebratory beer drinking made possible by Deschutes Brewery's Base Camp. Our featured brewery of the month for April, we'll be whooping it up with the Deschutes Brewery team this evening as they share with us such brews as Mirror Pond Pale Ale, Black Butte Porter, Chainbreaker White IPA, Hop Henge Experimental IPA and even The Abyss. Pair some of this hand crafted goodness with our specially selected appetizers, and you'll have a night to remember."

Deschutes Hats Off to Homebrewers
Steingarten LA in West LA
Tuesday 4/10/12 @ 6pm – 9pm
"
Attention homebrewers…come hone your craft with the gang from Oregon's Deschutes Brewery. The Deschutes crew, including brewer Robin Johnson, are heading to Los Angeles for Base Camp Week and will be giving away clone recipe booklets and bags of whole flower hops to use in your next homebrew. Specialty beer tastings of rarities like Black Butte XXII, The Abyss and The Stoic paired with some tasty appetizers will whet your palate. And that's not all…five more Deschutes beers will be on tap including Obsidian Stout on Nitro and Chainbreaker White IPA. Robin will also be leading a deconstruction of the never-released Black Butte XXII, providing tastings of some of the specialty ingredients. We'll even have commemorative glasses to give away while supplies last. Hope to see you here!"
Deschutes Brewery Two-Bit Tastings
Silverlake Liquor in Silver Lake
Thursday 4/12/12 @ 3pm – 5pm
"Clean out under the couch cushions, break open the piggy bank and dig around on those car floorboards – you'll be surprised at how you can utilize a mere 25 cents tonight at Silverlake Liquor! Let us surprise you while you visit with Deschutes brewer Robin Johnson, and frolic around the brewery's giant traveling beer barrel, Woody – all while drinking Deschutes Brewery's damn tasty year-round line-up of beers."
Deschutes Brewery Tasting
Whole Foods Fairfax (next to the Farmers Market) in West Hollywood
Thursday 4/12/12 @ 6pm – 8pm
"
Deschutes Brewery will be visiting the Fairfax Whole Foods Thursday evening to talk with craft beer fans and provide samples of their award winning beers. A brewery representative will also guide you through a cheese pairing with The Stoic, a barrel-aged Belgian-styled ale. There will be special offers on beer in the store, plus you'll get a free collectible pint glass when you buy a 6-pack to take home."
Deschutes Beer-lesque: Tastings & Tassels
Skinny's Lounge in North Hollywood
Thursday 4/12/12 @ 6pm
"What's better than an evening full of craft beer from Deschutes Brewery? An evening full of craft beer coupled with intriguing Burlesque dancers and Vaudeville variety acts. Each act will feature a different Deschutes Brewery beer equaling a night of excitement, laughter, and unforgettable fun. The evening is packed with excitement."
Deschutes Brewery Snacks & Sips
The Village Idiot in Hollywood
Friday 4/13/12 @ 4pm – 6pm

"Thank goodness it's Friday, and it's time to wind down after a long week with some damn tasty beers and snacks. That's right, we're welcoming the gang from Deschutes Brewery as part of their Base Camp for Beer Fanatics. What does that mean for you? You can spend Friday after work chatting about hand-crafted brews with the experts, while sipping on hard-to-find beers like Hop Henge Experimental IPA and Chainbreaker White IPA."
Deschutes Grab Beer by the Horns
The Surly Goat in West Hollywood
Friday 4/13/12 @ 7pm
"
Not only will the giant Deschutes Brewery barrel on wheels, Woody, be here, but you should be too! We'll be pouring a limited amount of some Reserve Series brews like Black Butte XXIII, The Abyss and The Stoic along with the brand-new Chainbreaker White IPA. With live music on our back patio to help you get your groove on, and a Deschutes beer in your hand, you'll kick off the weekend right and change your mind about the possible pitfalls of Friday the 13th."
Deschutes Base Camp Finale
House of Blues in Hollywood
Saturday 4/14/12 @ 7pm ($15 advance tickets/$20 at door
)
"Oregon's Deschutes Brewery's been in LA all week celebrating a fanatical love for craft beer, and the celebration is wrapping up with a grand flair at House of Blues. Guests will have access to the members only Foundation Room, where Nitro Obsidian Stout will be on tap and sampling of all of their year-round beers such as the infamous Black Butte Porter will take place. Paired with the beer will be a special selection of scrumptious appetizers. Downstairs in the music hall Mirror Pond Pale Ale will be on tap, ready to rock it to the reggaeton sounds of Prince Royce. Contact Lisa Aranda at Lisaaranda@livenation.com or 323-848-5146 to buy your tickets in advance"
Golden Road Brewing Presents El Hefe Anejo
Far Bar in Little Tokyo Tuesday 4/17/12 @ 7pm
"Some months ago our friends over at Golden Road Brewing purchased a few used Tequila barrels from south of the border. They decided to take they're flagship Golden Road Hefeweizen and age it for four months or so in those very barrels. We here at Far Bar had been anticipating the final product for some time from conception to visiting the brewery and get to smell the aromas from these barrels mid-stage to now where we'll tap one of the few kegs yielded from these barrels to sit back and enjoy with all of you "El Hefe Anejo"."
Beer Belly One Night Stand: Bootleggers Brewery
Beer Belly in Korea Town Wednesday 4/18/12 @ 5pm
"Coming up on April 18th is our latest One Night Stand. Join us as we welcome Bootleggers Brewery to Beer Belly. What's on tap you ask? A doozy of a tap-list: Galaxian Barley Wine, Mountain Meadow, Mint Chocolate Porter, Doggery Brown Ale, Golden Chaos Golden Ale, Old World Hefeweizen, Black Phoenix, Rustic Rye IPA, Palomino Pale Ale, & Knuckle Sandwich."
Specialty Flights Thursdays: Stone Double Bastard
Sunset Beer Co in Echo Park Thursday 4/19/12 @ 6pm – 10pm
"$20 Stone Double Bastard flight featuring vintages from: 2006, 2007, 2008, & 2011. But what do you get for your $20? Well, besides 4 ounces of each of these beers that you'll be hard-pressed to find anywhere else, you also get a chance to go back in time and see what the beer was like and how it aged! This is not only one of our favorite beers to drink fresh, it's also one of our favorites to age!"
Los Angeles Brewing Company Grand Opening
Los Angeles Brewing Company in Downtown LA Thursday 4/19/12 @ 5pm
Celebrate the grand opening of Los Angeles Brewing Company with the the release of their first batch of beers, LABC Honey Blonde and LABC IPA. Food samples will be available from 5 – 5:30 p.m. and the full menu, with over 100 beers on tap, will be available into the night. They will also be tapping some special Stone Brews as well, including the elusive Mixtape Vol 1.
Hangar 24 Barrel Roll Special Release Party
The Golden Gopher in Downtown Thursday 4/19/12 @ 8pm – 10pm
"Rafael Hurtado (Hangar 24 Market Manager) will be at the Golden Gopher on 4/19 from 8pm-10pm to help celebrate the release of two of their special release craft beers from their "Barrel Roll Series", Hammerhead & Pugachev's Cobra."
Firestone Walker Wookey Jack Release with David Walker
Whole Foods El Segundo Thursday 4/19/12 @ 5pm
"Fan of Fabulous Firestone Beers?? Come meet David Walker – the owner of Firestone Brewing Company for the release of Wookey Jack and TAP TAKEOVER!!! Join us in our Tapas bar for this exclusive event on Thursday, April 19th at 5pm."
Whole Foods Venice Thursday 4/19/12 @ 7:30pm
"We have added a beer tasting for Thursday, April 19th! David Walker from Firestone-Walker Brewing will be at the Whole Foods Venice wine bar to kick off the release of Wookey Jack black IPA. A "tap takeover" will ensue as David pours from their entire line of beers. David is an engaging and charismatic British expat with a depth of knowledge and a gift for storytelling. This is one tasting that should not be missed!"
A tribute to our to our green, leafy friend!
Sunset Beer Co in Echo Park Friday 4/20/12 @ 7pm – 10pm
Hoppy beers and Grill 'em All (with a special burger for the occasion, The Weedeater), nuff said.
New Belgium "Lips of Faith" Night & $3 Shift Cans. Yes we "Can."
Steingarten LA in West LA Friday 4/20/12 @ 6pm – 11pm
"FIVE AMAZING LIPS OF FAITH DRAFT BEERS: LA FOLIE, COCOA MOLE, BIERE DE MARS, CLUTCH, PRICKLY PASSION, & $3 PINT CANS OF SHIFT ALL NIGHT LONG! We will have a representative on hand from the brewery to talk about the beers. We will also have a limited amount of glasses to giveaway *while supplies last. A special pairing menu will be available so come hungry."
Tony's Darts Away 2nd Anniversery Party
Tony's Darts Away in Burbank
Saturday 4/21/12 @ 11am (Tickets are $30)
Tony is throwing a party, so expect there to be great beer and vegan food! (exclamation mark only applies to the beer… sorry)
Cheers
Beer Guy LA